CHARLES TOLLIVER AND MUSIC INC. The Ringer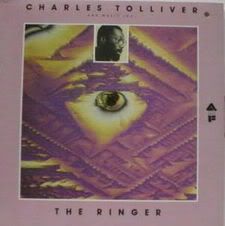 Arista-Freedom 1017 (1975)
Here's the very latest addition to my collection. It's another Arista-Freedom recording from the seventies, this time by trumpeter
Charles Tolliver
. I hadn't heard any of his recordings before, so this was basically bought sight-unseen (hearing-unheard?) on
eBay
. I was bidding on a couple of
Archie Shepp
records and saw this listed by the same seller, so I figured I'd throw it in there too and get more records for what would probably be close to the same postage. I got outbid on the Shepp albums, but ended up winning this one for $4.76 (with shipping and handling coming to $5.25!).
I had heard Tolliver's name connected with certain avant-garde circles, so I was a little surprised to find that this album contained fairly straightahead jazz. It sounds like some of
John Coltrane
's early-to-mid-sixties material with his famous quartet, or fellow trumpeter
Woody Shaw
. Tolliver's tone is clean, clear, and bright, and his band, consisting of pianist
Stanley Cowell
, bassist
Steve Novosel
, and drummer
Jimmy Hopps
, provides solid, supple support. The title track sounds like a great lost recording from a
Blue Note
session by
Herbie Hancock
or
Freddie Hubbard
, while "Mother Wit" displays a subtle lyricism that wouldn't be out of place on a
Miles Davis
album from the fifties or sixties. The lengthy "On the Nile" has an exotic, modal sound not unlike that of
Pharoah Sanders
.
The Ringer
was available on
CD
for a while, but may currently be out of print. If you dig around, you may be able to find a copy; get the record if you can, which boasts a far superior cover. One of my beefs with the CD reissues of the Freedom albums (when they happen at all) is that many don't contain the original cover art (and when they do, of course, it's shrunken down to CD size). An album like
The Ringer
is a rare example of an album that I'd prefer to have on vinyl instead of CD (the fact that mine is a barely-played DJ copy certainly doesn't hurt, either!).